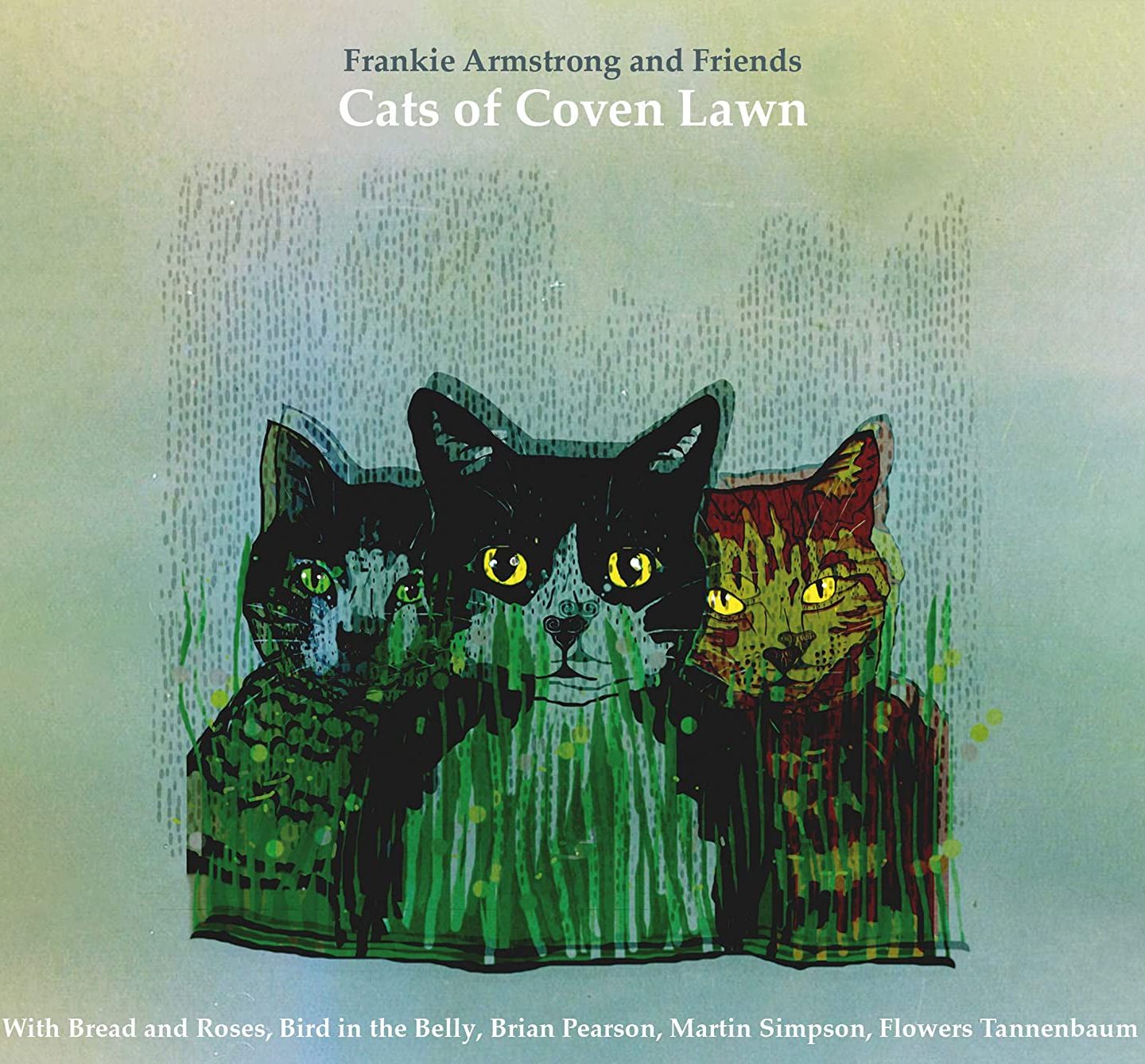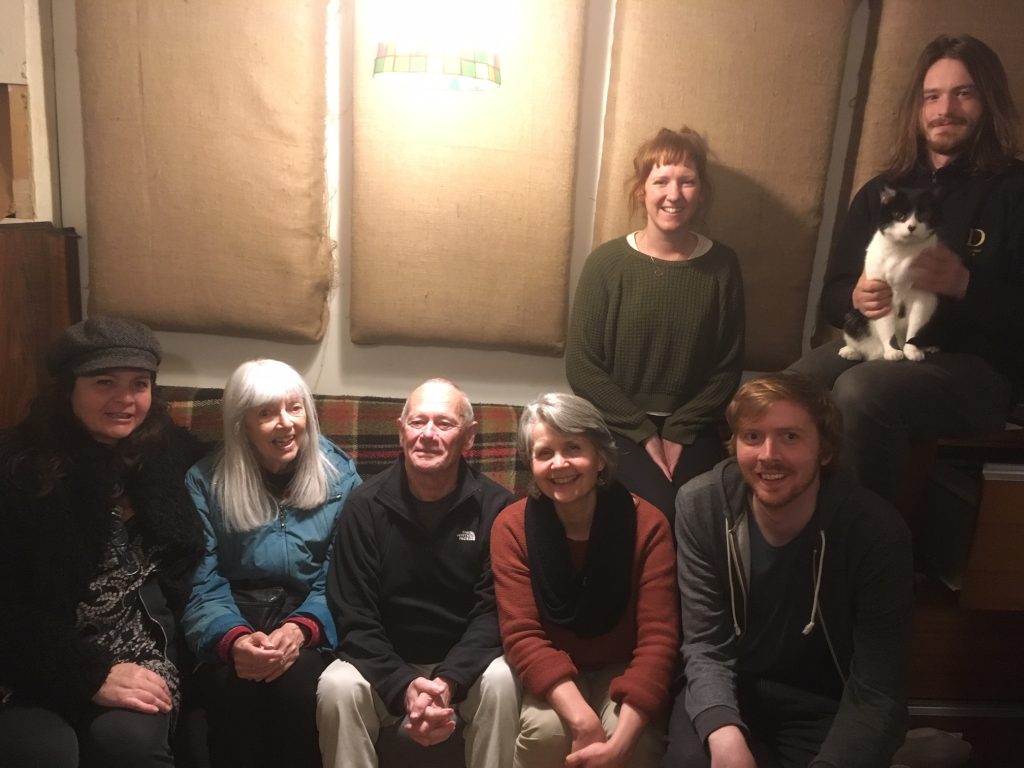 Cats of of Covern Lawn  recording session.
L-R: Laura Bradshaw, Frankie, Brian Pearson, Pauline Down, Adam Ronchetti,
Back: Laura Ward, Tom Pryer with Ponyo the Cat (who sings on the album)
The nakedness of the sound gives the singing an immediacy that can be almost startling in its impact . . ." The album has a noticeably contemplative, almost valedictory tone, representing many elements of Frankie's life and commitments. A Life Lived Well, the final song, illustrates this facet of the recording, but I do hope this isn't the last we hear from such an imaginative artiste.
"So what's it about? Pretty much everything,
really. It's a bit political, it's a bit feminist; it's about
inequality, it's about standing up for what's right, it's
traditional and contemporary. In short, it's about life and, in
one or two instances, death.
Frankie begins with 'Bread And Roses'. These days it is usually
sung sweetly as a polite request but with Frankie and her friends
it is once again more of a demand."
Singer, voice teacher and doyen of the folk scene and the women's
movement Frankie Armstrong turned 80 earlier this month – a little
over two years after receiving the coveted EFDSS Gold Badge
Award. Cause for celebration, then – and here it comes in the
form of a wonderful new album, the impetus (instigation) for the
recording of which came from her Green Ribbons colleague Ben Webb
(aka Jinnwoo of Bird In The Belly). Here, Frankie has surrounded
herself with singing (and playing) friends; the overall feel of
the album is therefore very much one of intimate, convivial
companionship (and mutual esteem), the aesthetic being that of a
bunch of like-minded comrades getting together in the living room
to share songs and relive communal memories. Which means that, as
in any such gathering, the host is likely to inspire rather than
dominate the conversation: thus a fellow-singer will occasionally
take the lead on a song, whereas several of the album's songs are
performed by Frankie in consort with her Bread & Roses trio
colleagues Pauline Down and Laura Bradshaw.
As is her wont and practice, then, Frankie refuses to grandstand
or make her own singing the focus, although her legendary
commanding, steadfast vocal presence provides an abundance of
thrilling moments over the course of the album. Notably a
typically authoritative condensed collation of the ballad Lizzie
Wan (for which Martin Simpson supplies a deft, lyrical and
perfectly supportive guitar foil) – for no record of Frankie's
would ever be complete without a traditional ballad – and a
moving account of the traditional Willow Song, familiar from its
adoption as Desdemona's lament in Shakespeare's Othello.
But the remainder of the disc's carefully chosen tracklist is
significantly daring even by Frankie's own eclectic standards.
Inevitably there's a healthy contingent of socio-political
material; and where better to start than with a committed, raw a
cappella-trio account of Bread And Roses, the oft-recorded James
Openheim poem which is here given in the less-oft-heard Leon
Rosselson setting. Frankie's own composition Where I Live On The
Map compellingly addresses the issue of water deprivation, while
We Are Women revives Frankie's stirring 1980s setting of key
words by Susan Griffin; Story Of Strength which, with telling
economy of expression, tells the empowering story of campaigner
against oppression Malala Yousafzai.
Other crucial themes explored in this collection include
solidarity in the joy of singing (the Rosie Waite original
Something Sings, a Serbian dance-song and a yoik from the Sámi
people of northern Scandinavia). And Ben Webb's eerie invocation
of Marcy's Guesthouse is both a fine showcase for Frankie's vocal
artistry and a standout track. Frankie's friend Brian Pearson
contributes three contrasting songs including a celebration of
the yearly cycle (Four Seasons) and a deliciously "Brianic" take
on mortality (Dead Funny). The album's title number is an
affectionately fun, homespun little feline-focused ditty adapted
by Ben from a broadside ballad, set to a simple guitar strum and
sporting a naïvely charming miaow interlude. Fittingly, the disc
closes with Lindsey Williams' touchingly sanguine valedictory
reflection on A Life Lived Well.
I'm so glad that Frankie was persuaded to record this album,
albeit by means of the "carrot" of being able to involve a circle
of friends, for their contributions lovingly impart this
ostensibly disparate collection of material with a tangible sense
of fellowship, togetherness and unity entirely befitting
Frankie's lifelong vocation as enabler. At the same time,
Frankie's own staunchly life-affirming presence, her total
conviction in artistic expression in the face of adversity, rides
aloft on the power of music and song.
Over the last year, talk of 'key workers' and 'essential
services' has dominated newspapers and workplaces, and we have
had to call into question what exactly we mean by those terms. Is
art less essential than money or food? Do human beings have
primary and secondary needs, or a broader spectrum, and if so
where on that spectrum does music fall? And when we talk about
'primary' and 'secondary' are we really grading our needs in
order of importance or merely in the chronological order in which
they must occur? These are questions of philosophy, but they
concern art, and art has a right to fight its corner. For those
who value artistic practice, James Oppenheim's 1911 poem Bread
And Roses (taken from a slogan used by the Chicago Women Trade
Unionists) makes a stirring case for the defence.
Even in the hardest of times, the slogan implies, people feel
compelled to make art. There appears to be a deep, perhaps causal
link between the need to exist and the need to find beauty or
enjoyment in existence. The latter makes the former worthwhile.
Even in times of war, famine or genocide the most downtrodden
social groups relied on the promise of something better to get
them through, and one of the easiest and most satisfying ways of
doing this was song, either communally or in isolation.
All this is really a roundabout way of saying a very simple
thing: don't underestimate the power of music as an important,
perhaps even essential, part of life.
The singer, writer and voice teacher Frankie Armstrong, who
turned 80 earlier this month, says it much better and much more
succinctly. It is no accident that her new album – a release
characterised by variation, experimentation and breadth of
collaboration – kicks off with a version of that century-old
Oppenheim text. It's been performed countless times before in
aid of countless causes, but rarely can it have been done as
stirringly as this communal a capella version.
Bread And Roses is one of a handful of overtly political songs on
Cats Of Coven Lawn. We Are Women strikes a similar tone, its
lyrics adapted from a text by noted American ecofeminist Susan
Griffin and sung unaccompanied by Armstrong. Where I Live On The
Map examines the nature of privilege by collating heartbreaking
examples of water poverty, while the brief but powerful Story Of
Strength tells the story of activist Malala Yousafzai with words
adapted by collaborator Laura Bradshaw from Malala's own
writing.
There are more lighthearted moments: the title track is a
brilliantly bizarre take on an obscure traditional song arranged
by Ben Webb (AKA Jinnwoo, whose idea it was for Armstrong to
record this album). It's borne along on a lo-fi acoustic guitar
strum and is augmented by Armstrong's 'meow chorus', giving
the whole thing an air of naivety that aligns it with the
outsider art movement. Dead Funny (written by Brian Pearson who,
along with Armstrong, was at one point a member of the
influential Critics Group) is gallows humour at its jauntiest.
Pearson also contributes Four Seasons, a song written in the 80s
for a collaboration with Armstrong based on the ballad Tam Lin,
and provided the words for Earth, Air, Fire And Water, which has
an instrumental outro that hints at paganism, ritual practice and
the lysergic delights of freak-folk.
But what is really impressive is how, after more than sixty years
in the music business, Armstrong still refuses to be pigeonholed.
Hers is a lo-fi aesthetic, and she was doing it long before that
term was ever used. It's obvious that she has little time for
folk's stuffier conventions and even less time for the overt
slickness of much contemporary music. If she does have an agenda
it is the championing of the underdog.
Neither does she care much for the usual forms of authorship or
the cult of the individual. Her music is a collaborative process
– the album is credited to Frankie Armstrong and Friends, and a
number of lead vocal parts are taken by other singers.
Armstrong's own Bread And Roses singing trio featuring Pauline
Down and Laura Bradshaw take on the majority of the singing, and
there are supporting roles for the aforementioned Pearson and
Webb as well as the Bird In The Belly ensemble and Martin
Simpson. This gives the whole thing a refreshingly uncontrived
feel and a heightened sense of unity, in terms of both friendship
and political comradeship, an approach that bears fruit in the
harmonies of Something Sings, or the delightfully rousing Yoiks
(a pair of folk songs from the Sami culture), or Aide Jano
(Idiano), a lusty Serbian song about the pleasures of dancing.
Perhaps best of all though are two traditional English songs:
incest ballad Lizzie Wan (ft. Martin Simpson and premiered
below), given a bleak but moving vocal performance that resembles
an English Nico, and a tender rendition of Willow Song, which
will be familiar to many listeners as Desdemona's lament from
Othello. They're given a run for their money by the Ben Webb
composition Marcy's Guesthouse, which perfectly captures the
British seaside town out of season, locked in time, sad and
wistful, empty but somehow beautiful.
Frankie Armstrong's music has always been defined by a staunchly
positive outlook, though one which is never rose-tinted.
Adversity – death, the world's political problems, her own
visual impairment – is confronted head-on, and with admirable
practicality. For her, music is both a tool for changing the
world and something to be enjoyed after the world has changed.
This all-encompassing, compassionate worldview has served her
well for over half a century, and Cats Of Coven Lawn is one of
her strongest statements yet. It is also a brilliant testament to
the essential nature of artistic expression.